E2 : Dimple keyway(same as LPL video) lock,1*cylinder with 30 keys
Regular price $70.00 $70.00 Available
SKU:

Vendor : EASILOK
Type :

Collections:
Tags:

 Twist to Lock your deadbolt Keyless
Four Unique Features:

Twist-to-lock deadbolt keyless with an Anti-Mislock Button (E1 without Anti-mislock Button)
An unpickable Night Latch built in
Never fades or rusts by lathe finish
Built like a TANK made of stainless steel casting process.
EASILOK deadbolt was highly rated by the LockPickingLawyer who is the most well-known name in the world of lock picking and covert entry and has 4 million followers on YouTube channel. 

EASILOK was highly rated as "The best built deadbolt Ever and I've never seen before", and EASILOK was the only deadbolt that LPL gave the highest praise out of the 1,500 he reviewed so far. Video link:  https://www.youtube.com/watch?v=7Cpq5sPCqKY
Easilok Twist-to-Lock your front door keyless,never waste time to search the key,it's very convenient especially when your hands are full or occupied.Video link: https://www.youtube.com/watch?v=ysyWJSHw1YI&t=3s
Detailed advantages about Easilok products 
1:  Twist-to-lock deadbolt keyless with anti-mislock button, no need to waste time to search for your key,just a simple twist to lock your deadbolt.Video link : https://youtu.be/fs3KuDAYmTk
2. Unpickable Night Latch built-in on interior knob.No extra drilling to install an extra "night latch" no more screw holes on your door.Video link: https://youtu.be/U6RE74DGBNI
3: Never fades or rusts due to its lathe finish after 304 stainless steel casting.Video link: https://youtu.be/tbrfpYtXdyc
4:   Built like a tank and made of 304 stainless steel casting process.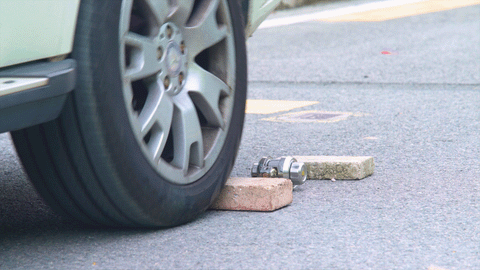 Even hammered to be broken but still working
Other Features:
1: Easy to install, even if a 7 years old child can do it with only a screwdriver. It's much easier than ordinary mechanical lock. Video link: https://youtu.be/9BO1leEOrVY
2: What the locksmith said about Easilok deadbolt ? Video link: https://youtu.be/TlFIWwvqj3I
   3: Fashionable Design : Round, groove and cutting edge design, luxury, high-grade, atmosphere, beautiful and more fashionable. 
  4:  Specification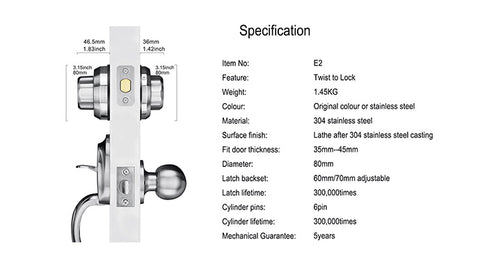 FAQ
1: All of the keys to the locks look the same. Does that mean anybody can get into my house?
In the lock industry, the chance of others having the same key is very low, because every 70,000 6-pin lock cylinders may have only one key the same.
2: Can I buy a cylinder to replace your cylinder?
No, our cylinders can not be replaced. They are specially made as a part of the twist-to-lock assembly.
3: If I don't have a key, can I unlock the lock?
No, the only way to unlock an EASILOK without a key is by calling a locksmith for help or by accessing the lock from inside the house.
4: Does the EASILOK rust?
Never. Our lock materials are all made with 304 stainless steel casting and lathe finish, so they will never rust or fade.
5: Is the lock harmful to the body?
Never. The surface of the lock is just lathed. There is no electroplating, spray paint, or baking lacquer used on the product.
6: Will the knob get stuck?
No. The EASILOK lock is manufactured with the strongest materials and the best bearing inside to ensure that the knob works smoothly forever.
7: I am interested in having 7 locks, 8 locks, or even 9 locks unlocked by the same one key (for example, the front door, side door, back door, and additional doors throughout the store). How can I order multiple locks with the same key?
We offer products with up to 4 locks that can be unlocked by one key. If you are interested in custom-ordering one set for 5 or more locks, please call us to order it first. We will deliver it to you within two months.
8: I currently have twin locks or triplet locks installed, but I want another lock that can be unlocked by the same key that I currently have. How can I buy additional locks that will be compatible with my existing locks?
In order to make the same cylinder and more keys for you according to your current set, you will have to send us one of the keys in your hand. We will reproduce cylinders and keys base on the key you sent us.
9: I don't know if my door is left or right throw. What if I can't install it? Will I have to send the lock back to you to change it?
Our locks can be installed in both left and right throw directions just turning over the spindle when you install it, so there is no need to know which direction your door is prior to ordering your Easilok.
10: Do you have an ANSI/BHMA security rating?
Our product is new on the market and we are working on receiving the security rating. All of the shells and twisting lock accessories have been set with 1 million lifetimes at least. The lifetime of the latch and cylinder is 300,000 times, which is more than the locks with standard Grade 2.
11: With one easy twist, my child could lock everyone, including themselves, out of the house. How can I prevent that from happening?
The Easilok comes with both an Anti-Mislock Button to prevent accidental locking as well as a Dead-Button, which works as a night latch on the interior knob to keep the door either locked or unlocked status.
12: Can I use this lock to lock the door from inside of a house?
 Yes, inside the house you can lock or unlock the door freely without any key, just like an ordinary lock. All locks have been set for emergency use inside the house, and our knob lock is very easy to hold and use. Our built-in bearing makes the knob smooth and easy to handle. 
13:  Can I order these in a satin nickel or brass finish?
 Our Easilok products are currently only available in high-grade lathe finish, which will never fade, rust, or wear out. Moreover, lathe finish is environmentally friendly and harmless because they contain no paint, oil, or e-plating.
14: Are the keys non-duplicable? How many keys come with a lock?
Our single lock product comes with 5 keys. Our Twin Lock comes with 10 keys, our Triplets Lock comes with 15 keys, and our Quadruplets Lock comes with 20 keys.
15: These keys look different than regular keys. Is it easy to get extra keys cut?
Our lock sold around the world, we have SC keyway and computer keyway according to the market,
16: How do you open the door? Do you need a key?
You can only open the door with your own key that goes with your lock. Nobody else can get in if they don't have a key.
17: Is this lock harder to pick than other types of locks?
Yes, this is a very safe and secure lock and is more difficult to pick than ordinary locks with outer-teeth keys.
18: If a neighbor decides to buy an Easilok, will he/she be able to use it on my door lock?
Our cylinder uses a 6-pin technical lock. This means that only one in more than every 70,000 keys could be the same. So needn't worry about this.
Free US Shipping on Orders Over $79

30 DAYS FREE RETURN

Limited Lifetime Warranty

100% SECURE CHECKOUT